Airconsole TS - Small, Flexible, Affordable and Enterprise Ready
Get serial console access to all manner of remote field equipment with Airconsole TS. Our most flexible product yet with WIFI, Wired Ethernet and Bluetooth connectivity, and equipped with 4-12 Serial ports in a tiny mount-anywhere package. Built on a new ultra light weight and low powered integrated server, Airconsole TS clips on to 1 or more 4 port serial modules using an innovative slide system. The complete unit can then be attached inside a rack without consuming any rack units and powered via either included power adaptor or optional PoE Splitter.
Tiny Server, Super Flexible: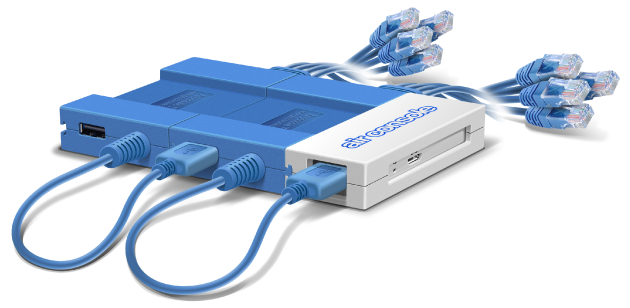 - Integrated 10/100 and 802.11n WIFI Connectivity in a Single Unit
- Start with 4 ports, add more on later as needed
- Connects to everything - RS232, DB9, DB25, DEX, Cisco serial console, Serial over USB
- Connect via IP networks or Bluetooth
- Power via PoE or Rack PDU via compact power adaptor
- Integrated light weight console cables or the "N" version with RJ45 ports instead.
- Mount anywhere with industrial Velcro (included)
Airconsole TS is the modern alternative to bulky old school terminal device servers - why waste power and space (and money) on expensive fixed port terminal servers when the Airconsole TS can be installed in half the space, uses half the power and generally costs less than half as much.
Enterprise Ready - Yet Works with Tablets and Smartphones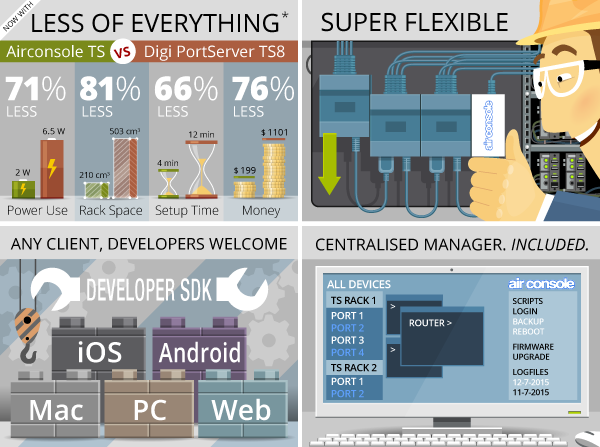 Airconsole TS was built with the Enterprise in mind - The hardware is based on a solid yet beautifully simple serial router design, with millions of units produced and a very very low failure rate. The underlying Airconsole operating system includes the remote access and serial out-of-band management features Enterprises expect and has then been stripped back of anything else. The result is a reliable yet full featured secure Device server that boots in 10 seconds and is simple to operate. Open standards support ensures no vendor lock-in and broad compatibility with any existing management system.
- Direct Console Access via SSH, Telnet or Built in Webterminal
- Full SNMP Monitoring Support
- Firewall Friendly - Customise all TCP ports used
- Secure access for both session and user control
- Local User Accounts or External Radius / TACACS+ Authentication
- Native Support for PC, Mac, iOS and Android
- Integrates with Airconsole Enterprise Server (licenses included)
- Open Standards Support and M2M Ready
Airconsole Enterprise Server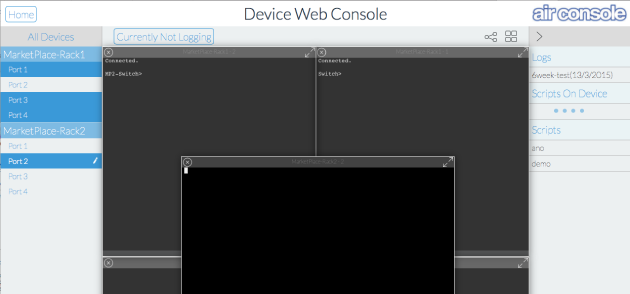 Previously called "Private Server", the Airconsole Enterprise Server is a single aggregation point for multiple Airconsole Terminal Servers, Smartphones or Tablets running our Get Console terminal app or standalone Airconsole adaptors in the field. Through a single secure web interface, Enterprise users can view, control and remotely access thousands of serial devices via Airconsole TS accross multiple locations. Each Airconsole TS has a built in OOB control channel that tunnels serial data over a WIFI or Wired IP network to Enterprise server allowing for concurrent remote control and local access.
Airconsole Enterprise Server has a growing list of orchestration features that build on basic remote access - NOC operators can now build complex if-then-else scripts using an intuitive GUI based script builder, as well as bulk administrate and manage the devices attached to Airconsole serial ports. Use Enterprise Server to remotely access device console ports, organise and control remote access, create and execute terminal scripts and capture logs .
And the best part about Airconsole Enterprise Server is the price. Unlike other terminal server vendors, our Enterprise aggregation and control product is not an optional extra. Self hosted licenses are included with all Airconsole TS, Pro and XL units so if you host it yourself there is nothing more to buy.
A Simple Device Server that Just Works
Out of Band access is often last resort - it needs to just work when its needed and not be overly complicated. Airconsole TS is the flexible, powerful and easy to use answer to solving remote device access and control, at a price less than half** of competing products. Try it now and if you don't like it send it back for a full refund - no questions asked.
* are trademarks of their respective companies. ** Pricing comparison May 2015 based on Airconsole TS8 vs Digi PortServer8, Digi CM8, OpenGear ACM-5508, Moxa NPort 5610-8-DTL.