What is Airconsole? - The Only Serial Adaptor You'll Ever Need
Airconsole is our popular portable, battery powered, RS232 Serial over WIFI and/or Bluetooth Adaptor. Designed to be seamlessly used with Mobile Apps on iOS, Android and also on PC, MAC OSX and Linux, Airconsole provides flexible and convenient access to physical Serial and Ethernet ports from devices (such as iPads and iPhones) that have only WIFI or Bluetooth interfaces.
Also Recommended by Cisco for use with the Cisco APIC-EM solution for remote field provisioning of Cisco Devices - great for the Cisco Plug and Play app for iOS or Android - see here for Cisco documentation.
The Universal Serial Adaptor: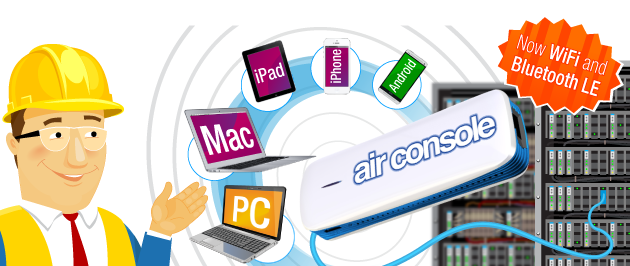 - Instant, all-in-one serial connectivity via Wifi, Wired Ethernet or Bluetooth 4 (Low Energy)
- Works with everything - iPhone, iPad, Android, Mac and PC - use our Apps or bring your own
- Includes Built in Web Terminal client - get on the console with just a browser (Airconsole 2.0)
- Connects to everything - RS232, DB9, DB25, DEX, Cisco serial console (RJ45 and USB), Serial over USB
- Small - weighs just 2.2oz (63gms) yet runs for hours. Airconsole Mini weighs even less.
- Fast - ready to use in 10 seconds from power on
- Long life Lithium Battery* - 14 days switched off, or operate with external power (cable included)
- Flexible - Operate as a Wireless AP, AP Client or combination of both. Also bridges WIFI to Wired Ethernet to give Wireless only devices a "Wired" Ethernet port.
Airconsole gets your modern devices connected to the legacy and USB serial ports on industrial, networking, home automation or other field equipment quickly and easily. No more hunting for the right cable or converter - auto-discovery and setup is built into our Get Console and SerialBot apps, and on PC and Mac our drivers make Airconsole appear as a physically connected serial port.
The Portable Terminal Server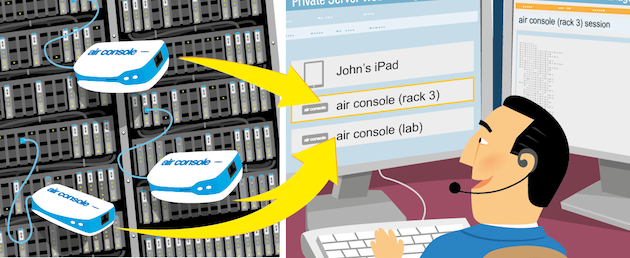 Why spend hundreds or thousands on a Moxa*, Perle* or Opengear* serial terminal server - the Airconsole is a full featured remote access and out-of-band management device for server and network equipment serial ports - it happens to also be portable and draw very little power. Connect Airconsole's into your wired or wireless management network and it can auto-tunnel back to the Airconsole Enterprise Server management software (available for customers to host internally or on Amazon EC2). Licenses are included with Airconsole Pro / XL kits.
Developers Welcome
Cloudstore publish free iOS, Android or Websockets Software Development Kits - allowing both mobile and web developers to add native RS232 serial port support easily into their existing apps. Great for industrial use such as controlling robots directly from a mobile webpage, or building home automation control applications. Our free SDK's includes example code and simple apps to get you started.
Really, The Only Serial Adaptor You'll Ever Need
Because Airconsole works with iPhone, iPad, Android, Mac and PC - you'll only need to carry one adaptor kit with you for field work. And not only can a field engineer access Airconsole - the latest 2.1 release allows remote users to concurrently access Airconsole serial ports at the same time via our Airconsole Enterprise Server software. Deploy Airconsole as a semi-perminant serial terminal server for a fraction of the price of competing terminal servers. This lets remote engineers work directly on field serial devices with or without a field engineer present.
Compare Models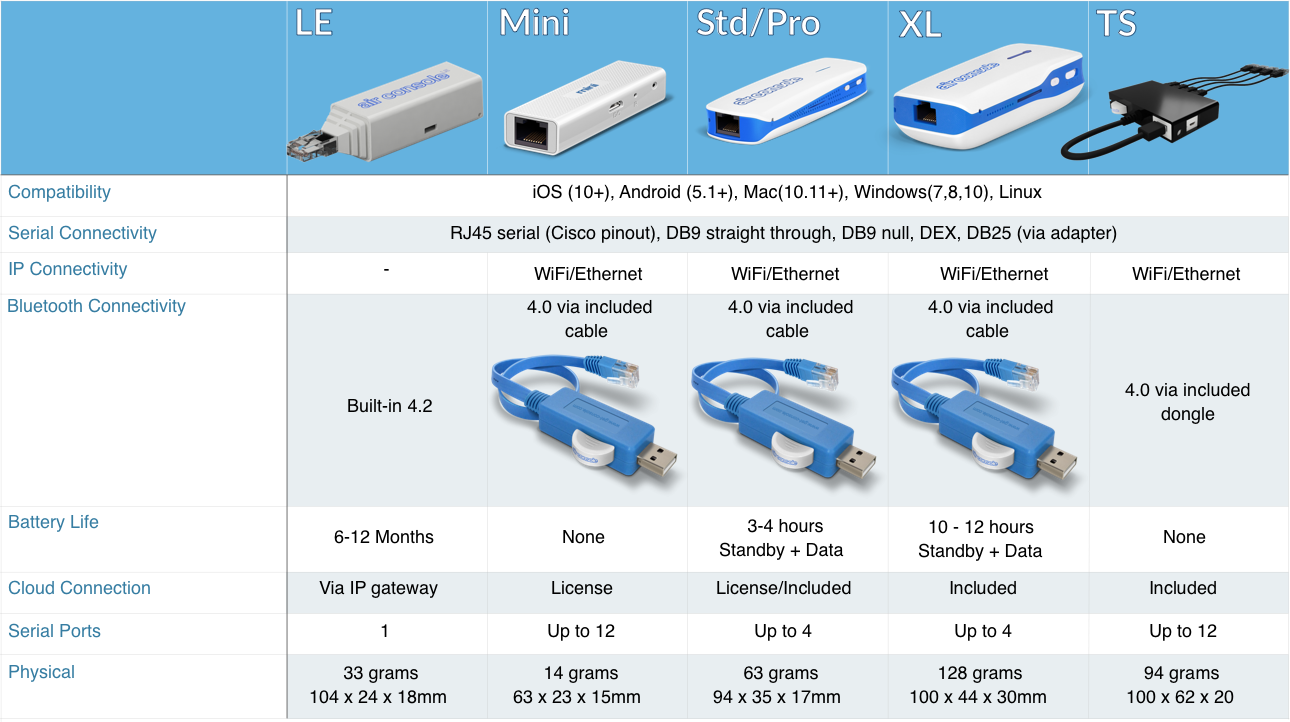 Plenty More to Come
Airconsole is being actively developed to offer more features, on our roadmap already is a 3G/4G version, enhanced M2M mode and a built in scripting engine, Netflow collection agent, and further enhancements to the built in web terminal client. These and other updates will be available via straight forward firmware update available on our support page
* are trademarks of their respective companies. Airconsole Mini does not have internal battery