Apps
Cloudstore currently makes 3 Apps for Mobile devices. Our flagship app is Get Console - a fully featured mobile terminal app optimized for both iPhone and iPad use. In addition to Get Console, we also publish SerialBot for free on the Android Platform. Finally we make a lower cost version of Get Console called RapidSSH. All apps enable seamless serial connectivity via our Airconsole serial adaptor, and the Get Console app has the added functionality of support for physical serial console cables made by Redpark.

Get Console
Since its release in 2010 Get Console has been the Number 1 App for mobile serial connectivity on the iOS platform. Still the only Apple MFI (Made for iPhone / iPad) approved method for obtaining physical serial connectivity between an iOS device and serial equipment such as Cisco routers or other networking equipment. Get Console is a rock solid, full featured terminal with many many advanced capabilities. Over 25000 engineers rely on Get Console for mobile terminal work every day.
Get Console comes with all the features engineers need to get work done on a mobile platform:
-- Fast terminal interface with many shortcuts: saved sessions, stored passwords, frequent commands
-- Tight integration with cloud - sync logs, configurations, sessions and scripts to Dropbox without thinking
-- Create and execute terminal scripts with our easy script builder integrated directly into the App
-- Multi-session support - run upto 20 different connections (Serial, Telnet, SSH) concurrently in tabs
-- Share individual iPad/iPhone live terminal sessions with remote users with our Private Server software
-- Import existing connections from PuTTY or SecureCRT PC Terminal Apps
-- Integrated TFTP Server, X/YModem Support, Bluetooth Keyboards, SSH Key import and much much more...

RapidSSH
Cloudstore also offers a lower cost alternative to the Get Console App. Rapid SSH has many of the features in Get Console, but at a lower price. Included is full support for the Airconsole Serial-over-WIFI adaptor, logging, scripting and session sharing. The major difference is the support for Redpark physical serial cables. RapidSSH does not support physical serial cables, whereas Get Console does. RapidSSH has its own website covering its major features here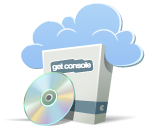 Enterprise Edition
Get Console, RapidSSH Apps and our Airconsole hardware can operate as mobile serial terminal servers when used in conjunction with our Private Server cloud hosted software. This provide on demand access to remote equipment connected to either field engineers smartphones and tablets (running Get Console), or connected to an Airconsole adaptor running as a serial terminal server. Private Server has many features for helping NOC engineers, Colo operators or large utilities take remote control of all manner of industrial and networking equipment, regardless of its location.
Learn more about Private Server
A Bit More About Get Console
When used with Airconsole and our Private Server software, Get Console is much more than a basic terminal app. Together this combination of App, hardware and cloud software come together to form a comprehensive solution for remote equipment management, new equipment deployment or remote training of field engineers. Get more done in the field faster on a 3G enabled tablet rather than a standalone laptop. Provide help to field engineers while working on live equipment easily. Get Console enables the "cloud" for field engineering services
What Problems does Get Console solve for Network Operations?
Problem / Situation
Get Console Feature
Benefit

Field engineer cannot efficiently follow NOC engineer guidance:

Poor comprehension of commands needed to be entered or the particular command syntax of a field device
Extensive command output having to be verbally relayed from field engineer back to NOC

Remote Access

How often have you tried to tell a field engineer over the phone the commands they need to enter into a piece of equipment's CLI to get it working again? It happens a lot more than it shoud. The Get Console app and Private Server allows the NOC engineers to take over the console session from the field engineer, allowing then to see everything, log everything, and control the remote cisco or other device completely.




Accurate fault diagnosis, faster recovery, full audit trail, less time on site by third party engineer.

Ultra time critical recovery needed for client:ance:

2 hour restore SLA clients
Remote locations where travel time eats up the SLA time

Instant On
Command Shortcuts

When the engineer arrives at site for a critical fault, the last thing they want to be doing is mucking around getting their laptop booting and finding the right adaptors. The Get Console app boots instantly vs the 5-10 minutes it takes for a field engineer laptop to boot. It auto connects to our cables and Airconsole adaptors. A remote engineer could be logged in and have solved the problem before a field engineer laptop has even booted.




Should the field engineer be performing initial diagnostics, then the Get Console app has many Cisco specific command shortcuts built in to speed up data gathering and problem solving.




Shorter access times = shorter outages for customer, shorter (cheaper) callouts from third party field engineers

Remote equipment pre-staging / late changes:

configuring new equipment in-situ rather than pre-staging at central site
making last minute changes to pre-configured equipment prior to commissioning

Remote Access

Cmd Scripts

File Access

Reliable remote console access allows for equipment to be shipped directly to customers site and configured in situ. The Get Console Website allows for easy upload / download of configuration scripts to the remote console port via iPhone, / iPad This allows for a field engineer to perform the racking, powering and cabling of the new equipment, while the remote Senior engineer downloads the prepared configurations to the devices as the are powered on.




Save Freight Costs, Save time with single step install and commissioning

Remote Diagnostics gathering

Gather lengthy command outputs such as "show tech" from failed field device and get them to Cisco quickly

Remote Access

Full Remote Logging

File attachments

Copy / Paste

Faster Cisco TAC case updated directly from the field are possible as the CCC app can run (for example) "show tech", which is saved to local log as a text file that can be instantly mailed to attach@cisco.com from the iPhone / iPad itself, rather than waiting for the field engineer to get back to the office to email it.




Keep TAC cases on Cisco Pending not Customer Pending

Making High Risk/Impact Changes Remotely

Make network changes that will temporarily break in-band connectivity
Make changes to equipment not available remotely inband at all

Remote Access

The Get Console app allows senior engineers to make changes remotely that would otherwise require a senior engineer to visit the site. Such changes include high impact ones where inband access would be broken as part of the change, or to devices that are simply not accessable via inband IP networks.




Save time and travel costs for Senior engineers

Make high impact / risk changes with confidence

Poor records of Field engineer activity

Unclear what configuration changes a junior field engineer may have made prior to the remote engineer gaining access

Separate Local and Remote Logging

Remote engineers can see what the field engineer did prior to starting the remote session. Separate logs for local session and remote session ensure accurate audit trail of what commands were entered, when, and by whom.




Keep full session logs without thinking
What hardware is required?
The Get Console app runs on Apple iPhone (3G , 3GS, 4), iPad (1,2), and iPod Touch (2Gen, 3Gen, 4Gen). All Apple devices must be running version iOS 4.2 or later. In addition to the app, for serial connections the user must have the "Redpark" RJ-45 Serial adaptor (Model C2-RJ45). This adaptor is a 1.8meter apple 30pin to RJ-45 (Cisco console) cable.
What Costs are involved?
The Get Console app is US$9.99 available from the Apple app store
The Redpark Apple 30 Pin to Cisco Console cable is US$59.00 available from www.get-console.com/shop or other retailers including www.redpark.com. Discounts for bulk purchases are available.
For customers wanting to host their own Private Server version of the Get Console backend software inhouse then an additional client access license priced from $12 per device (depending on volume and whether they are yearly or perpetual). There is no charge for the Private Server software itself.
The remote access feature via the Get Console public website is currently free for Get Console app purchasers that register on this site. In addition the iPhone or iPad should have a 3G dataplan with the wireless carrier.
How does it compare to Webex / Team Viewer etc
The Get Console solution is designed primarily for the narrow niche of network equipment field services. Other solutions require the field engineer to have a laptop (with a working 3G or Wifi connection to the Internet). In addition, sending strange characters - such as "break" and "ctrl-shift-6" etc via a webex / teamviewer session is difficult, and ultimately their solution will cost more as it was not designed for network field service operations.
Contact
Simon Hope
Email
simon@get-console.com
Tel
+6492804521 / +6421434974
FAQ
www.get-console.com/faq