Private Server
Buy Private Server Now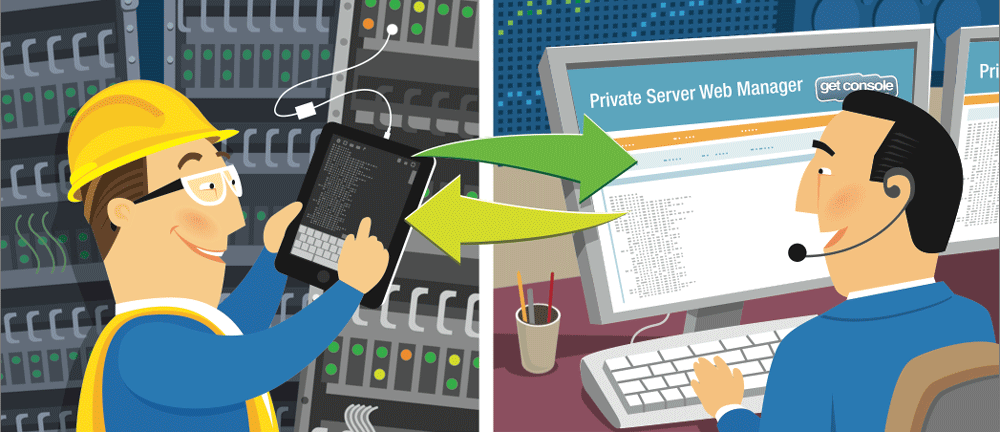 Introducing our Enterprise Edition - the Get Console Private Server
The Get Console Private Server extends the functionality of the Get Console solution by allowing end users or corporations deploy their own privately hosted version of the Get Console server side components
Get Console Private Server is a virtual appliance - run it on VMWare in the corporate datacenter or private cloud. Adding Get Console Private Server transforms the Get Console app and iPad into an enterprise field team support and management tool. Get Console app users in the field can instantly access corporate standard configuration templates, check on service requests and get remote assistance by sharing their iPad terminal screen with remote NOC engineers.
How does the Get Console Private Server Work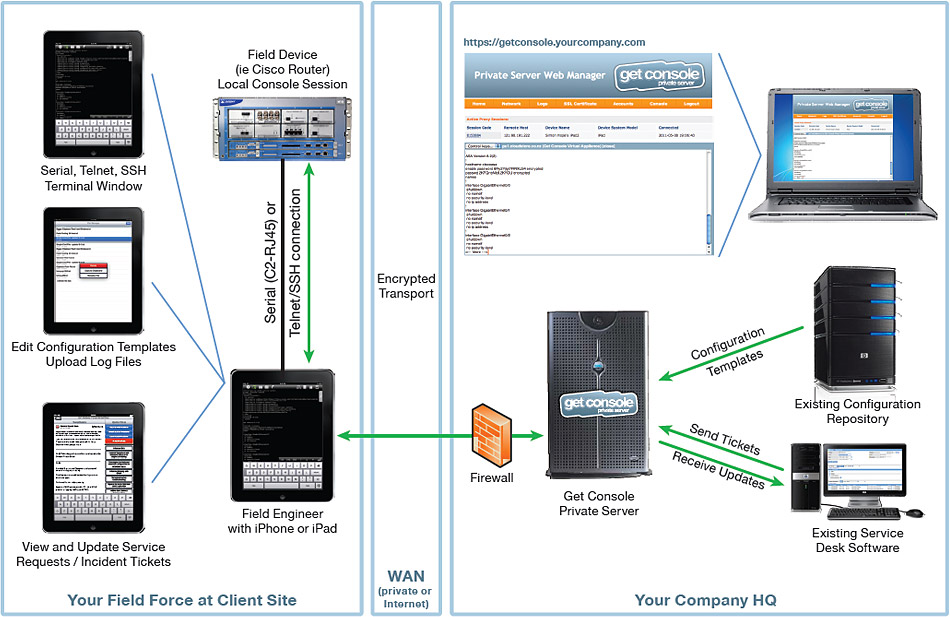 Get Console Private Server
Deploying Get Console Private Server has the following benefits:
Increased Security, as the Private Server and Remote PC user are located behind the corporate firewall, no potentially sensitive field device configurations or data is transmitted through or stored on the public Get Console servers. In addition, the Private Server can install a valid corporate SSL certificate to allow the Apple device to Private Server connection to use SSL encryption.
Increased Performance, as the latency between the Remote PC user and the Private Server is greatly reduced meaning the end to end performance of the remote control terminal session is fast and smooth
Increased Flexibility, as the Remote PC user can use either the Private Servers built in Web Terminal, or any Telnet client of their choosing (such as SecureCRT, or puTTy)
Increased Ease of Use, as the Private Server displays all currently available sessions and the name of the mobile terminal associated (generally the field engineers name). The field engineer does not need to pass the session code number to the remote PC user, as the remote PC user can see all the sessions and quickly identify the session he wants to connect to.
Upload and Manage corporate configuration templates for field devices and download them to the iPad/iPhone in the field
Keep log files of all field terminal sessions and upload them automatically for audit trail and troubleshooting
Get Console Private Server Licensing
Priced from just $12 per Apple iOS device wanting to share sessions with it, Get Console Private Server is licensed either yearly or as a one off perpetual charge. Get Higher performance, better security and features not available on our public servers. Click here to purchase licenses.
To learn more or to download the Private Server software, select from the options below:
Get Console Private Server Datasheet
This 2 page datasheet describes how the Get Console Private Server works, including the system requirements
Download Get Console Private Server Datasheet (1.16Mb)
Get Console Private Server User Manual
Please download and read this manual for Get Console Private Server before installing. It contains detailed step by step installation instructions, as well as the System Requirements.
Download Get Console Private Server User Manual (2.9Mb)
Get Console Private Server in VMX/VMDK format for VMWare Server 2.x
VMX/VMDK is a native VMWare format. You can download this VMX/VDMK zipped distribution package which is optimized for VMware Server 2.x. However you can use VMWare VCenter Converter Standalone software package to convert to VMWare Workstation, VMWare Fusion, VMWare Player or VMware Infrastructure virtual machine formats.
Download Get Console Private Server in VMX/VMDK format (856Mb)
Get Console Private Server in OVF format
The OVF (Open Virtualization Format) format is a virtual appliance packaging and distribution standard for compatibility between different vendors hypervisors. Get Console have tested this on VMWare vSphere 4.0 and above. It may work on other hypervisors such as Xen and Virtual Box that support OVF, however Get Console will not provide any support for installing on non-VMWare platforms.
Download Get Console Private Server in OVF format (957Mb)
Get Console iPhone and iPad Application
The Get Console iPhone / iPad application is available exclusively from the Apple iTunes App Store